FIORINI INDUSTRIES
Fiorini Industries began over forty years ago by producing and installing solar power systems.
Since then, the company has evolved and operates in the HVAC&R (Heating Ventilation Air Conditioning & Refrigeration) market with a complete range of thermal-technical products including: plate heat exchangers, hydronic systems with integrated heat pumps, conditioning as well as domestic hot water solutions, pressure tanks, solar power systems, and tailored solutions.
Fiorini operates in the renewable energy market too, offering the latest generation of geothermal and air heat pumps systems.
Thanks to the management synergy of resources and planning, to the significant, unique know-how acquired over 40 years of business and thanks to continuous research into new technologies, Fiorini has established itself as a leading European manufacture of hydronic systems for heating and conditioning systems.
These distinctive features allow us to build innovative, customised solutions based on high efficiency and eco-sustainability.
THE VALUE OF IDEAS
Every product takes shape from an idea. What drives us is the search for solutions built on efficiency, on saving energy and on new heights of living comfort. We work to ensure that every project that takes shape, every goal achieved, contributes to spreading a culture of sustainability. Each success is a commitment to stay on the path of research, to continue investing and building relationships with our partners, our customers and our employees who create shared well-being and value for the territory.
-Antonio Fabbri
C.E.O. Fiorini Industries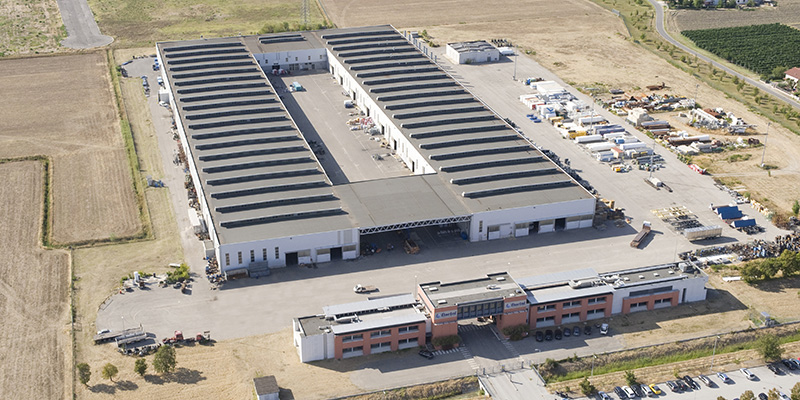 BRAND
Fiorini is a reliable partner who, for over 40 years, has been offering high quality, innovative, technological solutions. Thanks to its professionalism, the company works with some of the largest international operators in the sector, exhibiting outstanding reliability and technical ability.
For Fiorini, sharing experiences and using diversified skills are the keys to creating the best solutions to meet a mixed demand from the industrial, residential and tertiary sectors. The exchange of knowledge and know-how, that Fiorini carries out with stakeholders and international operators, is often transformed into partnerships aimed at developing innovative projects.
MISSION
To create innovative, high quality HVAC&R products, operating with professionalism and transparency, continually investing in innovative, highly technical solutions, aiming to offer consistent quality in full respect of the territory and the environment. To continue the path taken to improve the performance of products from a qualitative point of view, aiming to reduce and optimise costs.
To follow a path of steady growth, thanks to a strong drive to technologically upgrade products and processes, and the loyalty of employees as well as customers and partners. To invest in training and education, guaranteeing that personnel are constantly updated, increasing their expertise, in order to offer tailored technical solutions.
CERTIFICATIONS
For Fiorini, certifications are an added value: independent proof of our reliability and our guarantee.  The company has taken this conscious choice to be responsible towards the territory, our partners and customers. When you choose Fiorini, you can be confident of dealing with a company that operates in a clear, transparent way, with the utmost respect for European regulations.
Corporate management at Fiorini feels its social responsibility deeply, as seen by the numerous certifications obtained:
RINA Certification for Quality (ISO 9001); for the Environment (ISO 14001) and for Health and Safety (OHSAS 18001);
AGCM Legacy Rating Certificate ★★ +;
RETE PMI Ethics Code awarded to companies who operate in respect of the common good.